Clear Safety, the safety, compliance and risk management consultancy has pledged its commitment to embracing inclusivity within its business operations by gaining formal recognition as a Level 1 registered Disability Confident Committed organisation. The government-run Disability Confident scheme aims to encourage employers to recruit, retain and develop disabled people and those with health conditions. Following the stringent approval process, Clear has been acknowledged as a business that offers a workplace that empowers employees to talk about disability and well-being at work, whilst also establishing an environment that provides equal opportunities for disabled people, both in terms of new and existing staff.
As a Disability Confident Committed organisation, Clear was required to provide hard evidence that the following key principles are firmly embedded in the Clear culture:
An inclusive and accessible recruitment process
The communication and promotion of vacancies through a range of communication channels
Active encouragement of applications from disabled people by offering them an interview if they meet the minimum criteria for the job
The anticipation and provision of reasonable adjustments to ensure that disabled people aren't disadvantaged when applying for and doing their jobs
Support for existing employee who acquires a disability or long-term health condition to stay in work
The Disability Confident Committed status is one of the first outcomes of the consultancy work being undertaken with The Juniper Studio – a multi-disciplinary agency whose services include consulting on customer relationship management integrations and training in Agile methodologies.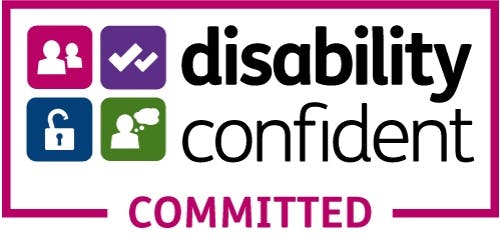 Working with the specialist consultants at The Juniper Studio, Clear's has pledged to focus on promoting accessibility and inclusivity within all its business operations.
Commenting on the successful Disability Confident Committed registration, Nicki Lever, co-founder at The Juniper Studio says, "One of the main traits that have been prominent throughout our work with Clear Safety is their inclusivity. They have consistently gone above and beyond for their team, supporting with a range of situational, temporary, long term and permanent disabilities. Each member of the Clear Safety team contributes to the inclusive culture, and we hope to see a range of inclusive activities including work experience, work trials and job shadowing that will further progress the company on its Disability Confident journey."
Matt Westby, Director at Clear Safety says,
"We are delighted to have achieved Disability Confident Committed organisation status. Inclusivity and diversity have always naturally featured within the Clear culture but as the business continues to expand, we felt that the time was right to secure formal recognition of this. We welcome taking the next steps to becoming a Disability Confident Employer (Level 2)."
First published: Feb 2023